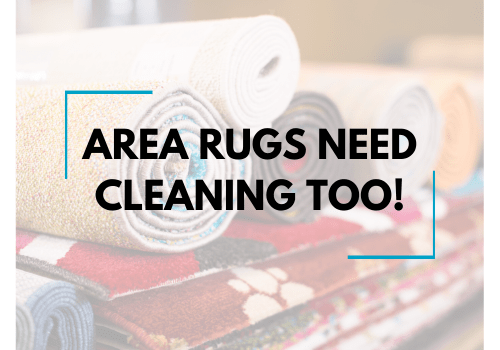 Whether your house has carpet, tile, wood, or maybe a combination of two or all three, area rugs are a go-to decorating trick. This means that area rugs are often placed in high-traffic areas — therefore, they get dirty! How do you keep them clean? Well, there are quite a few do-it-yourself tricks (that we list below), but ultimately, to keep an area rug in tip-top shape, they need to be professionally cleaned at least once a year.
But before you even address cleaning (even quick do-it-yourself tricks), you need to determine what kind of rug you have. Why? They all require different care! So, first, let us identify the various types of area rugs, and then we can dive into the various area rug cleaning methods.
Types of Area Rugs
Wool Rugs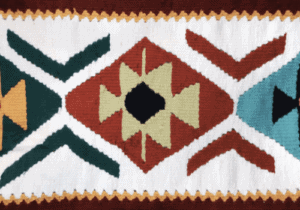 This is by far the most common type of rug (though they can come with a pretty hefty price tag). Wool area rugs are very durable, soft, and provide great insulation. Traditionally, wool rugs are handwoven, hand-knotted, hand-loomed, or hand-tufted. (There are a few machine-made wool rugs, but these typically include additional synthetic fibers.)
Fun fact: If you have an Oriental Rug, it is likely made of wool. However, some are made of cotton, or a wool/silk blend.
Cotton Rugs
These rugs are traditionally handwoven or braided to give the look of a wool rug without the price tag. Like wool rugs, cotton rugs are usually very soft. Cotton is often a go-to choice for many designers because cotton is available in thousands of colors.
Silk Rugs
These rugs are soft, shiny, and beautiful. Just note, they are definitely less durable than the others. Silk rugs are also traditionally handwoven, and many also use wool. Usually, these rugs will be placed in low-traffic areas (or even hung on walls).
Natural Fiber (Jute, Bamboo, Sisel, etc)
These rugs are usually hand-loomed or woven and are backed with latex. We see these a lot here in Texas as their natural colors go well in any Texas home!
Synthetic Rugs (Polypropylene, Polyester, Microfiber.)
These are machine-made. Synthetic rugs are the most common and least expensive. They are sold in retail stores such as Target, Wayfair, and more. They accomplish the decorative trick without the price tag!
Hide, Leather, and Sheepskin Rugs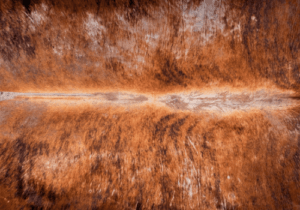 These rugs are definitely a fan-favorite here in Texas! Hide and sheepskin rugs are cut and tanned. Leather rugs are often made up of various leather scraps.
Faux Hide and Faux Fur Rugs
It should come as no surprise that these rugs are machine-made! Faux hide and fur rugs are inexpensive to purchase and require little care. (Mainly because they are easily replaced.)
Area Rug Cleaning & Care

Carefully Vacuum
The various types of rugs require different care techniques. However, every single rug can be vacuumed (carefully) to remove dust and dirt. (Yes, even sheepskin rugs, but this must be done very carefully while using the lowest pile setting.) Vacuuming often will help prevent dirt from setting in.
For wool rugs, be sure to vacuum both sides, and shake it out once or twice a month!

Rotate Your Area Rugs Often
This will help with sun fading and overall wear.

Add Some Rug Pads
We suggest using a rug pad for wool, cotton, silk, and hide/leather/sheepskin rugs. Rug pads help prevent unnecessary tares while also holding them in place!

When to Use Your Washing Machine
Only use a washing machine when cleaning small cotton rugs that have a tag indicating that the rug is machine washable. Otherwise, do not put your rug into a washing machine!
Spot Clean with Care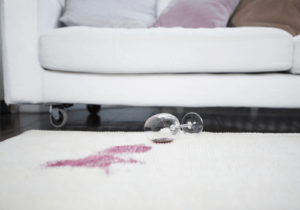 Even the most experienced red wine connoisseur will sometimes spill. That being said, it is necessary to immediately address the spot by blotting a white absorbent cloth.
It might be tempting to use a detergent or cleaning agent, but be careful. Synthetic rugs are really the only rug that can withstand shampoo and detergent. However, you can use an absorbing powder on a natural fiber rug.

Hire a Professional Cleaning Service
Dedicated Warehouse for Area Rugs
Here are Topaz Cleaning and Restoration, we know that rugs can be quite an investment, and professional cleaning is essential to prolonging the life and beauty. We have a dedicated and educated staff to ensure the best cleaning techniques for every type of rug. In addition, we dedicated an entire warehouse for cleaning area rugs. So, the next time you need to have your area rug cleaned, give us a call!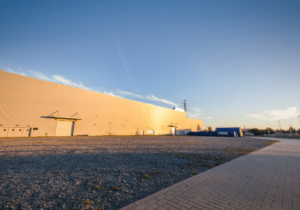 Ready to have your area rug professionally cleaned? Give us a call at (210) 653-9699 to schedule it today!